We are proud to offer unique African baskets wholesale. These one-of-a-kind pieces of functional artwork are woven by local African craftspeople from across the continent who share our commitment to quality.
We offer wholesale prices to qualified wholesale customers.
Not a wholesale customer yet? Apply now
Need help with our new website? Contact us
Wholesale customers have two ways to order Fair Trade African baskets, art and home décor:
Order from our wholesale catalog
Wholesale pricing on select baskets and fair trade gifts.
This is the most economical method of ordering baskets but you have less control over the exact colors and patterns of baskets you will receive.
Get discounts in our retail catalog
Wholesale discounts on individual baskets and fair trade gifts.
This method offers you the most control and the greatest selection. You will receive the exact baskets that you choose. There are many items in the retail catalog that are not available in the wholesale catalog.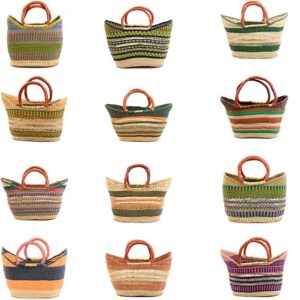 Become a qualified wholesale customer
Just complete a simple online wholesale customer application form.
If you're a good match for us, we'll set up a wholesale customer account for you to view our wholesale catalog.
Then you can browse the website — including a special section for wholesale-only products — and place your wholesale order online.
Cynthia
Your latest shipment of baskets was the most beautiful ever!

Cynthia
Franciska
I received my package on Tuesday and am very happy with the quality. I see that yours are excellently woven and now understand why the ones I got from New York were cheaper. The Copper wire that is added to yours improves the beauty a thousand fold and adds to the quality.

Franciska
Questions?